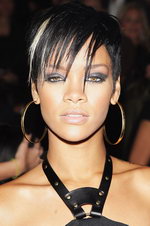 Альбомы:
2005, Music of the Sun
2006, A Girl Like Me
2007, Good Girl Gone Bad
2009, Rated R
Тексты песен:
Hard
Photographs
Rude Boy
Russian Roulette
Te Amo
The Last Song
Wait Your Turn
Кратко об альбоме
A Girl Like Me is the second studio album by Barbadian R&B singer-songwriter Rihanna. It was released through Def Jam Records on April 19, 2006 in Japan, on April 24 in the United Kingdom, and on April 25 in the United States. For the production of the album, Rihanna worked with Evan Rogers, Carl Sturken, Stargate and J. R. Rotem with label-mate Ne-Yo who wrote the album's second single. Musically, the album incorporates a combination of pop, reggae and ballad elements which received mixed reviews by music critics.
Some critics gave the album positive reviews stating that she gracefully avoids the sophomore disappointment while others compared the album to her previous effort. A Girl Like Me was released less than eight months after her debut album. It peaked at number five on the U.S. Billboard 200 album chart and on the UK Albums Chart. The album was successful in other Countries, entering the top ten in Ireland, New Zealand, Australia and Japan while topping the charts in Canada on the Canadian Albums Chart.
A Girl Like Me spawned four singles: "SOS", which became her first single to reach number-one on the Billboard Hot 100, "Unfaithful" and "Break It Off", both reaching the top ten on the Billboard Hot 100, however, the third single, "We Ride", failed to reprise the success of the previous singles. The album was re-released as an expanded double-disc deluxe package in Germany, which includes her previous hit single, "Pon de Replay". The album has been certified platinum by the Recording Industry Association of America (RIAA).
Список песен из альбома "A Girl Like Me"
SOS

(4:00)

Kisses Don't Lie

(3:52)

Unfaithful

(3:48)

We Ride

(3:56)

Dem Haters (вместе с Dwane Husbands)

(4:19)

Final Goodbye

(3:14)

Break It Off (вместе с Sean Paul)

(3:34)

Crazy Little Thing Called Love (вместе с J-Status)

(3:23)

Selfish Girl

(3:38)

P.S. (I'm Still Not Over You)

(4:11)

A Girl Like Me

(4:18)

A Million Miles Away

(4:11)

If It's Lovin' That You Want (Part 2)

(4:08), бонусный трек
Обложка альбома Rihanna "A Girl Like Me"


Диск "A Girl Like Me" (www.discogs.com)


Обратная сторона коробки с альбомом "A Girl Like Me" (www.discogs.com)

Даты выхода альбома "A Girl Like Me"
При подготовке этой страницы были использованы данные Википедии, а в частности статья "A Girl Like Me".
поделись с друзьями